With the growing number of tourists in Sydney and other parts of Australia, one can easily assume that they are responsible for the thriving business of rent-a-car companies these days. Although foreign travellers are a big part of the car rental industry, there is a wider variety of clients who needs a car hire service more than you think.
Do you live in Sydney and you just want to chill with your friends on a road trip? Rent a car and and see the benefits for yourself. You may spend a few extra bucks but you can save your own car an extra mileage which would lessen it's value. You can also rent a more spacious vehicle for a bigger group or just if you need more room for your stuff.
Your car broke down and will not be repaired for a few days? Rent a car and save yourself the hassle of public transportation.
Are you looking to impress a girl? It sure is a good idea to pick up your date in a nice clean car. After all, almost 62% of our clients are male and some of them actually rented a car for this reason.
The family is going on a weekend to the northern beaches but there's just not enough room for the kids, grandparents, aunt, uncle, the cousins and their stuff? You can consider renting another car or two for the whole household. As the saying goes, the more the merrier.
You've got a day full of errands on different places? You'll surely finish them faster with driving on your car hire than waiting for a bus or riding a taxi which will cost you more at the end of the day.
You plan to buy a car and want to see which suits you? Sure you can test drive cars in the car dealership nearby, but 24 hours with your rented car will help you decide whether it's the car made for you. You can hire different cars to try which suits you best.
You rarely drive anymore and buying and maintaining your own car is more of a liability to you already? Rent a car for specific occasions and free yourself of the responsibilities of keeping your vehicle in tip-top shape. Our oldest client so far, who is 79 years old finds renting a car very convenient and helpful to him.
Are you a businessman and flying over to Sydney for a few days of meetings? We're sure you know that you need to hire a car for travelling all over the city.
Most of our clients hire our car rental service for an average of 5 days and for a lot of different reasons. This only shows that the locals need a car hire service as much as tourists do.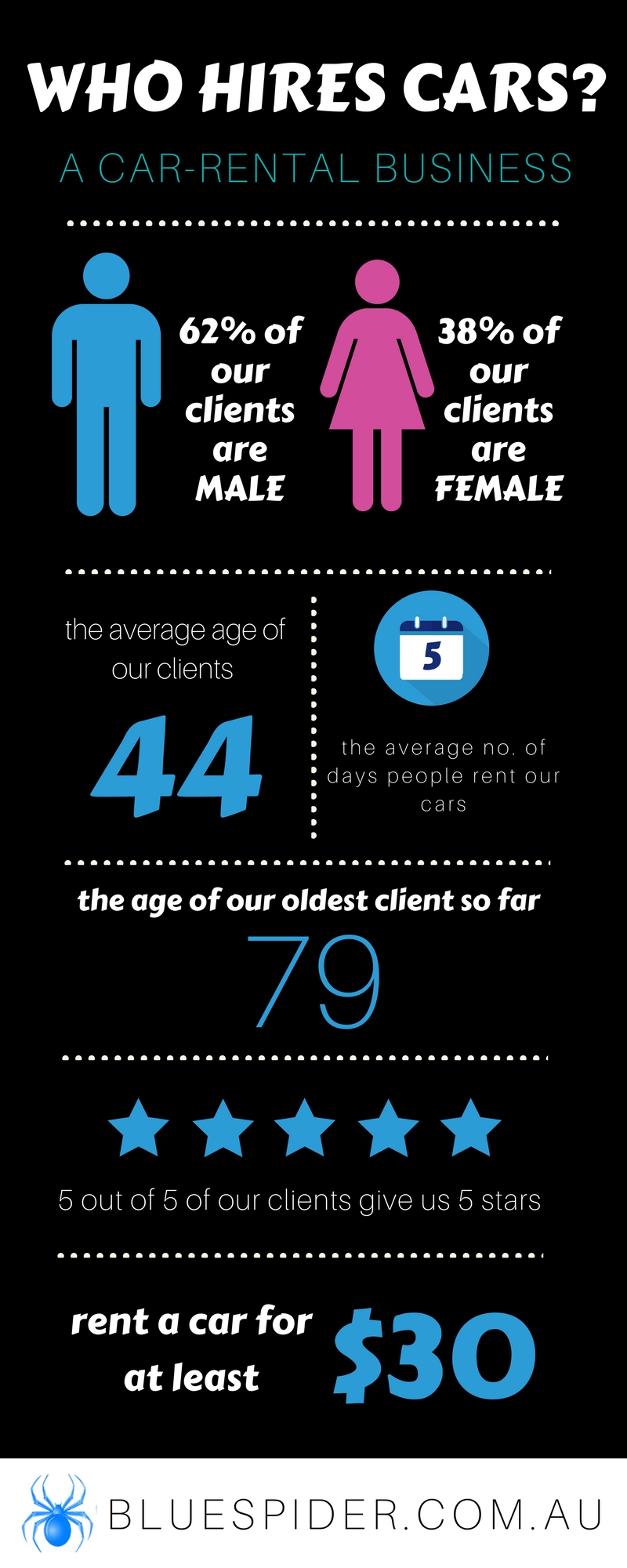 https://bluespider.com.au/wordpress/wp-content/uploads/2016/09/LogoBS-300x91.png
0
0
draganbs
https://bluespider.com.au/wordpress/wp-content/uploads/2016/09/LogoBS-300x91.png
draganbs
2017-05-15 08:22:40
2017-05-15 08:22:40
Who really needs to hire a car rental? - and the reasons why.